Season Three of X-Men Evolution aired its Final Season episode on November 4, 2003. Following, Season 2, which debuted on September 29, 2002.
Episodes
Title
Directed by
Written by
Original air date
Production code
Day of Recovery
Gary Graham
Greg Johnson, Craig Kyle, Cydne Clark
September 14, 2002
301

X-Men and the Brotherhood deal with the aftermath of the world finding out about mutants. The Institute is blown up, and Mystique posed as Prof. X to blow it up. Some of the X-Men and Brotherhood are captured, leaving the...
The Stuff of Heroes
Curt Geda
Greg Johnson, Craig Kyle
September 21, 2002
302

Under Cyclops' new leadership, the X-Men (without Logan) go out to fight Juggernaut while Storm and Beast meet with the government...
Mainstream
Frank Paur
Greg Johnson, Craig Kyle
September 28, 2002
303

The X-Men and the Brotherhood go back to school which causes some chaos, when nobody wants them there...
The Stuff of Villains
Gary Graham
Greg Johnson, Craig Kyle
October 5, 2002
304

Wanda goes searching for Pietro; she finds him at a diner and proceeds to get him arrested in the assumption that Magneto will come bail him out. Meanwhile, the Brotherhood are expelled from school, much to Lance's disgust...
Blind Alley
Curt Geda
Greg Johnson, Craig Kyle
October 19, 2002
305

Mystique escapes from imprisonment while the X-Men repair and rebuild the Institute. Disguised as Alex, Mystique lures Scott into a trap -- leaving him stranded in the middle of the Mexican desert without his glasses. While Jean gets premonitions of...
X-Treme Measures
Frank Paur
Greg Johnson, Craig Kyle
November 2, 2002
306

Evan has Entered in an extreme Skateboarding Competition, and puts his skills to the test, but something is wrong, a mysterious woman, is watching him, and while at the competition she keeps following him, and it seems she's trying to...
The Toad, the Witch, and the Wardrobe
Gary Graham
Greg Johnson, Craig Kyle, Cydne Clark
November 9, 2002
307

Wanda receives a clue from one of Magneto's minions, Pyro, directing her to a sky resort. Meanwhile, Kurt is meeting Amanda's parents for the first time, and the Toad believes he can use Kurt's holo-inducer to disguise himself and win...
Self Possessed
Curt Geda
Greg Johnson, Craig Kyle
November 16, 2002
308

Rogue begins to lose control of all the people she's ever absorbed as they fight to take over. She discovers unsettling information about Mystique. Scott and Jean go on a date... or do they?...
Under Lock and Key
Frank Paur
Greg Johnson, Craig Kyle
November 30, 2002
309

Mesmero mentally controls Gambit into stealing half of the Spider Stone from Angel and is then captured by Magneto. Magneto finds out about the three keys that can free Apocalypse and tracks an escaping Mesmero to London. Angel goes to...
Cruise Control
Gary Graham
Greg Johnson, Craig Kyle, Cydne Clark
August 23, 2003
310

The X-Men are in vacation with Storm as their guardian. Amara starts acting not well, Scott and Jean want to go to a place where no one will call them...
X23
Curt Geda
Greg Johnson, Craig Kyle, Christopher Yost
August 2, 2003
311

Logan finds out that scientists have made a clone from his tissue and is now lost and coming after him...
Dark Horizon I
Frank Paur
Greg Johnson, Craig Kyle, Christopher Yost
August 9, 2003
312

As Jean´s and Scott´s graduation day approaches, Rogue suddenly begins acting strangely. After crossing Magneto, the X-Men and Acolytes team up to stop the coming of Apocylapse...
Dark Horizon II
Gary Graham
Greg Johnson, Craig Kyle, Christopher Yost
August 16, 2003
313

The heroes and villains continue their battle against Mesmero, only to come face-to-face with Apocalypse...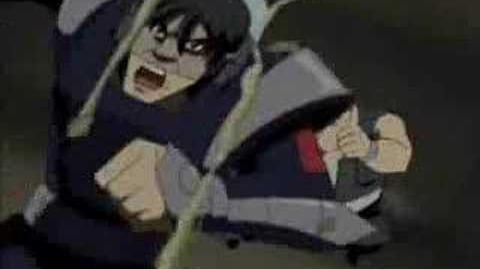 Summary
After the battle with the Sentinel the mutant race was no longer a secret. The public reaction was one of hostility. As the season progressed, the real Xavier was found, Mystique defeated, the mansion rebuilt, and the X-Men allowed back into Bayville High. Wanda continued to search for Magneto (who was saved by his son, Quicksilver, at the last minute) until Magneto used the telepathic mutant Mastermind to change her childhood memories. Scott and Jean forged a deeper relationship, while the romance between Shadowcat and the Brotherhood member Avalanche ended. Also, Spyke left the X-Men when his power became uncontrollable, deciding to live with the sewer-dwelling deformities, the Morlocks. As part of the series arc, Rogue loses control of her powers, leading to her hospitalization. During that time, she learned she was the adoptive daughter of Mystique. Mystique, through the visions of the mutant Destiny, foresaw that the fate of Rogue and herself lied in the hands of an ancient mutant that would be resurrected. The return of the long-awaited Apocalypse saga emerged in the season's final episodes. Mesmero manipulated Magneto into opening the second door, and used Mystique and Rogue to open the last, turning Mystique to stone in the process. Now released, Apocalypse easily defeated the combined strength of the X-Men, Magneto, the Acolytes, and the Brotherhood before escaping.
Logline
In X-Men Evolution, being a teenager means proving yourself over and over—to peers, parents, teachers, mentors and, ultimately, to yourself. But what if you're not just a normal teenager? What if you're a teenage super hero? Are you ready to join the ranks of the great heroes and prove you're worthy of the x-Men? That's exactly what the members of X-Men Evolution—,Jean Grey, Cyclops, Nightcrawler, Shadowcat, and Rogue—will find out, whether they have what it takes to be a proven hero. This exciting adventure series is produced by Warner Bros. Animation and based upon characters from Marvel Comics.
Major plot lines
Show
Characters

Teams


Locations


Objects
Cast
Stars
Co-stars
Production crew
Producers
Greg Johnson Developer / Executive producer / Writer
Bob Forward Executive producer / Writer
Writers
Bob Forward
Simon Furman
Christy Marx
Randy Littlejohn
Awards
X-Men: Evolution won the award for Outstanding Achievement in Sound Editing – Live Action and Animation at the 30th Annual Daytime Emmy Awards, on May 16 2003.[2] It also won the Cover of the Year Award in 2004 for best animated figure for Beast. It was nominated for several Golden Reel awards as well as other Emmys. Steven E. Gordon, the director of this show, was nominated for the for Production Design in an Animated Television Production for X-Men: Evolution at the 2001 Annie Awards.