"Hey! Did you see? Were you watching? This time it took me almost twice as long to crash and burn."
—Iceman
Must See Episodes
Personality
Bobby is a sweet, carefree and fun-loving kid; he's full of youthful exuberance, curiosity and eager to learn about the cool stuff the Xavier Institute has to offer — especially flying the X-Jet. As a result of this eagerness, he's become sort of the unofficial leader of the New Recruits. Sometimes, however, his enthusiasm to try new things or show-off his powers exceeds his ability to actually pull them off.
He can be described as the jokester of the New Recruits since he enjoys being the class clown; he also likes to gain the attention of others, which sometimes gets him into trouble.
Bobby will often carry out actions without thinking of the consequences. However, after realizing his mistakes, he does his best to fix them. Iceman is also very level-headed when it comes to intense situations. He will do everything to protect his friends, and he is very caring of them.
Physical appearance
Bobby has brown, short hair and brown eyes. He has white skin and lean physique. He regularly wears a light blue, short-sleeved shirt with dark blue sleeves. He also wears long, light brown pants and grey trainers.
His holiday/summer outfit includes a red sleeveless shirt, brown shorts, and flip flops.
During missions, he wears the regular blue jumpsuit, with a gold belt that has an 'X' logo on it. He also have gold shoes and heavy gold gloves. On his shoulders, there are plates with another 'X' logo on them.
Powers and abilities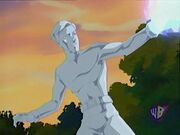 Iceman can manipulate thermal energy to create extreme cold to freeze anything in his surroundings. He can achieve such feats by reducing the kinetic energy of atoms in order to make things colder, for various effects and combinations. With his powers, he is invulnerable to cold weather. He is able to condense and form ice and snow from moisture in the air and manipulate it to form barriers and bridges of ice that he can slide on as a means of transportation. He can also forge elaborate ice shapes of anything he desires, creating a variety of objects, tools, structures and constructs to even a full-body armor/shell of ice that increases his durability and strength, but still allows him to move freely. He has some sort of telekinetic control over ice, able to levitate various ice structures which would, otherwise, fall on the ground. He usually uses this ability when creating his ice bridges, which are mostly made in the middle of the air. He is able to manipulate extremely cold winds, too, capable of freezing anything within seconds. Last but not least, Iceman is able to freeze anything to the atomic level, making it fragile, as seen in "Retreat".
History
Notes
Beast, Cyclops, Angel, Jean Grey, and Iceman all came together to try and stop the spider-stone key. They are also, the 5 original X-men!
Iceman was intended to be a main X-Man from the start, but he was dropped in favor of the created nephew of Storm, Spyke. Once Spyke was dropped in the third season, Iceman became more prominent.
Cannonball and Iceman appear, even called by name, but have no lines in Power Surge. [1]
Though all the New Mutants were show, only Tabitha, Bobby, Amara & Sam have lines. [2]
All the New Mutants appear, only only Iceman, Magma, Cannonball and Berzerker have lines in Day of Reckoning II. [3]
all the New Mutants, and Kitty Pryde are shown doing choirs with their powers around the mansion, but only Iceman has any lines. [4]
Tabitha Smith, Amanda Sefton, Iceman, Sunspot, Magma, Berzerker and Beast all make appearances, but have no lines in Self Possessed. [5]
In the kitchen, everyone is using their powers as they are all running late. Magma is frying her eggs, Nightcrawler is setting the table, Berzerker is making a milkshake, Cyclops is opening bagels, Iceman is eating an apple and icing everyone's drinks, and Shadowcat is getting things out of the fridge and tossing them to Multiple and Sunspot. [6]
Pyro, Iceman and Apocalypse are shown using their powers multiple times, but have no Lines. [7]
Sam, Bobby, and Ray are all at Bayville High School, and appear to all be students. [8]
Cannonball, Iceman, and Berzerker make multiple appearance, but only Iceman speaks in No Good Deed. [8]
Iceman and the New Mutants make an appearance but have no lines in The Stuff of Villains. [9]
Magma and Sunspot transformed into their full forms, but Iceman does not in the series final. [10]
In Other Media
This is Iceman's second role in an X-Men related cartoon, the first being in X-Men: The Animated Series
Iceman was a main character in Wolverine and the X-Men
Iceman appears in multiple films, including: X-Men, X2, X-Men: The Last Stand, and X-Men: Days of Future Past
Iceman appears in multiple video games, some of which include: X-Men: Children of the Atom, X-Men Legends, and Marvel Super War
Appearances
References