"No - we're the X-Men, Wolverine. We're not kids anymore! You trained us, and you know something? We're good...
We're very good."
—Cyclops
Must See Episodes
Personality
Out of the original six young X-Men, Scott was the most mature and militant, either from being the oldest or the original recruit. Scott is a handsome, good-natured, and confident leader who exudes natural authority, although he is still somewhat standoffish. He tends to acts as a big brother to the younger students at the Institute. And while the other students tend to look up to him, his competitive nature and closely held temper will get in the way at times. He is the most officious and rule-abiding of the X-Men and the least likely to fool around. He has an open sense of humor and he will joke around a couple of times, mostly with Kurt, but, most of the time, he acts in a "no-nonsense", straightforward manner.
Physical appearance
Scott is a handsome Caucasian boy with a tall and lean frame, given his nickname of "Slim" is very fitting. He is very masculine shaped with a V-shaped torso, broad shoulders, square jaw, and clearly defined muscles. Scott has clean-cut brown hair and though his eyes are hidden by his ruby quartz glasses, they are thought to be green or brown. Scott usually wears a blue sweater over a pale yellow shirt, tan pants with a brown belt and light brown shoes. And, of course, his glasses.
His second outfit consists of a dark red collared button-up shirt, form-fitting brown-grayish pants, and brown running shoes with his glasses.
His third outfit consists of a dark brown collared unbuttoned shirt with the sleeves rolled up over a grey shirt, black or dark blue pants, and brown shoes with his glasses.
In his X-Men uniform, Scott wears a dark navy blue bodysuit. Gold platelets with the "X" logo are on both of his shoulders, while a gold X-shaped platelet goes around his chest area. He wears a gold visor in place of his glasses, while small gold platelets protect his knee and shin areas. Matching gold combat boots are worn for shoes with gold gloves worn on both hands.
Powers and Abilities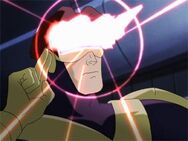 Scott's body can absorb certain types of electromagnetic energy, including sunlight, metabolize it, and release it in destructive, ruby-red force-based beams through his eyes. Due to a head injury he sustained as a child, he is unable to control these beams and has to use protective glasses made of ruby quartz to suppress them. A special ruby quartz visor is often used to help him focus and manipulate his optical blasts in various, controlled ways. His fully-unleashed powers are incredibly destructive and proved to be able to actually drive back the Juggernaut (even if it's just for a few moments). Due to a similar genetic makeup, this energy is ineffective against those related to him with similar powers, such as his brother, Alex Masters, because Alex's body will simply absorb it.
History
Relationships
Notes
Concept Art for Cyclops.
Scott is an Orphan.
Scott is in a romantic relationship with Jean Grey.
Strategy X shows the start of the Scott/Jean/Duncan love triangle.[1]
Scott had a best friend named Paul Haits.[1]
Cyclops mouths 'Fuzzy Elf' after Shadowcat says it to Nightcrawler when they are on the X-Jet.[2]
In grade 10, Scott took Drama with Rogue, Taryn Fujioka, Paul Haits, and Duncan Matthews.[3]
Rogue absorbs Cyclops's power and was able to control it, suggesting she's taking his powers at a genetic level, bypassing the brain damage that prevents Scott from turning off his eye beams.[3]
When Scott and Alex were younger they were both in a plane crash.[5]
Jean and Scott grow closer in Power Surge, foreshadowing their future relationship.[6]
Began liking Taryn Fujioka, after they spend the night together during a high school carnival.[7]
Alex Summers told Scott he filed to have his last name changed back to Summers.[8]
Operation: Rebirth is the first time Scott Summers does not appear.[9]
Scott goes to the Sadie Hawkins Dance with Taryn Fujioka.[10]
Mystique is left behind by Cyclops in Area 51, she soon escapes and seek revenge against him.[12][13]
A graffiti mural at the start of Mainstream has distortions of Wolverine, Rogue, Cyclops, and Jean Grey.[14]
Jean and Scott have their first date at a concert.[15]
Cyclops, Jean, Storm, Nightcrawler, Multiple, Sunspot and Magma all appear but don't speak in X23.[16]
Sunspot and Cyclops are seen, but have no lines in Ghost of a Chance.[17]
In the kitchen, everyone is using their powers as they are all running late. Magma is frying her eggs, Nightcrawler is setting the table, Berzerker is making a milkshake, Cyclops is opening bagels, Iceman is eating an apple and icing everyone's drinks, and Shadowcat is getting things out of the fridge and tossing them to Multiple and Sunspot.[18]
Jean and Scott are shown graduating Bayville High School.[18]
Charles Xavier saw The Future where Scott is leader of the X-Men.[19]
Scott's Convertible has been destroyed three times.[20][21][22]
Jean and Scott established a psychic rapport at some point, possibly after he saved her in Power Surge.[13][6]
After defeating Juggernaut, Avalanche tells Cyclops that he's not half bad as a team leader, and Cyclops tell him he can call the shots the next time. In Day of Reckoning, Avalanche is the team leader due to Cyclops' absence.[23]
The color of Scott's eyes is inconsistent throughout the series. In the flashbacks to the plane crash they are green,[5] while following his temporary enhancement in the same episode, they appear black. Earlier in the season they are blue.[24] Then when Scott is shown removing his visor after Dorian Leech uses his powers for the first time, though low lighting, they appear brown.[25]
In Other Media
This is Cyclops' third animated appearance, he has previously appeared in: Pryde of the X-Men and X-Men: The Animated Series.
Cyclops was a main character in Wolverine and the X-Men.
Cyclops has appeared in every X-Men game.
Cyclops has appeared in the following movies: X-Men, X2, X-Men: The Last Stand, X-Men Origins: Wolverine, X-Men: First Class, X-Men: Days of Future Past, X-Men: Apocalypse, Logan, Deadpool 2 and Dark Phoenix

Appearances
*Appeared but had no lines.
References